2018 Gear Guide Select
by BACKCOUNTRY MAGAZINE
Accolades for the Powder Factory DAYLITE continues to pile up, including 2018 Gear Guide Select by Backcountry Magazine

Featuring a white ash and aspen core wrapped in a kevlar shield, the Daylite is designed for the rugged skier, remade this year with a more progressive flex and a fresh tip shape, "With this high floating tip, this boat moves through crud like an aircraft carrier storming the Alaskan seas…" – BACKCOUNTRY MAGAZINE

Bottom Line: "Rewards aggressive styles with stable, predictable performance."  – Eric Tiffany (Backcountry Magazine Tester)

---

Ski Makers Tinkering with Carbon Fiber to Create Lightweight, Durable and Responsive All-Mountain Skis
by THE DENVER POST
---
2017 Gear Guide Select
by BACKCOUNTRY MAGAZINE
2017 was a huge season for Powder Factory skis, and among the many achievements, the DREAM was awarded Gear Guide Select by Backcountry Magazine

---

Powder Factory Skis
Featured in Exhibition at DIA
Powder Factory Skis is proud to be featured in the Colorado Innovation exhibit at Denver International Airport for their technological innovations behind the manufacturing of skis.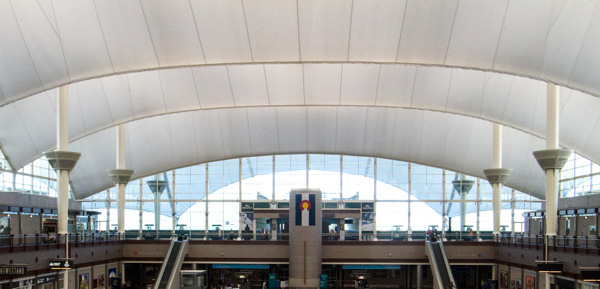 Colorado Innovation: Ski & Snowboard Industry bridges artistry, invention and forward-thinking technology to meet the high demands within the ski and snowboard industry.
Each Colorado company featured in the exhibit has a unique history, and this show highlights their Colorado roots, research, commitment to the environment and innovative approaches.
Click here for more images from the exhibition 
---
Voted Best Indie Skis: Powder 2015
by SKIING MAGAZINE
Powder Factory is honored to have the DAYLITE selected by testers as one of Skiing Magazine's Top Mens Indie Skis.
Best Independent Skis  –  Read the full review
"Powder Factory, a new kid on the block out of Silver Plume, Colorado, has been cranking out skis for little more than a year, yet the Daylite exhibits mature and refined characteristics. It's relatively stiff and powerful throughout, prompting one tester to call it "confidence inspiring," and another, "explosive." "I see a bright future for this company," remarked a third. It's a floater for sure, but it can still hold an edge." – SKIING MAGAZINE

---
The Best of 2014-15 Winter Gear
by ELEVATION OUTDOORS
The Powder Factory DREAM continues to receive rave reviews, including The Best Winter Gear by Elevation Outdoors.
Best Winter Gear  –  Read the full review
"Local brand Powder Factory is on the rise. Its Dream is just that: a blast to ride all over the mountain that features a rockered tip, race-inspired tail and enough guts to deal with hardpack. Plus, we like supporting a ski brand that builds its boards here in Silver Plume, Colorado." – ELEVATION OUTDOORS

---
Independent Skier Magazine
Find out more about Powder Factory skis in the latest gear guide by Independent Skier Magazine.
"Precision designed and expertly crafted high in the Rocky Mountains of Colorado, Powder Factory skis combine American craftsmanship with the finest materials in the world. Using locally sourced hardwood and the beefiest edges and bases available, Powder Factory skis are designed to last a lifetime. After a decade of research, development and testing, the 2015 line of Powder Factory skis are finally available. Using bio-resins and constructed in a wind and solar powered studio, Powder Factory skis remain dedicated to the skiing community and the future of the sport." – INDEPENDENT SKIER MAGAZINE

---
CUSTOMER REVIEWS
– Jared from Eugene, Oregon
"I am impressed! I had an incredible day yesterday on my new skis. 6-8 inches of fresh, slightly chalky snow, with almost no one around. The skis were put through the ringer… soft snow, wind blown, chop. They performed better than I could have imagined. Floated through the fresh, with the ability to butter the soft pools of snow, and then charged down through the chop with incredible stability. They are definitely stiff, which was good in the choppy snow, but I think they still turn quick enough for me."
---
"I was able to ski these on closing day at Loveland this year once the snow softened up mid day. From the moment I first started sliding down the steeps I could feel the true power that these skis have behind them. The softer tips make for good directional turns in the soft stuff and the stiffer center/tail allow for the ski to charge through just about anything. It was everything I'd been looking for in a ski; The perfect balance between a hard charger and surfy powder ski. I only got to take it into the trees twice but nothing was sacrificed as it made nimble turns through each chute. Overall, this is the exact ski I've been looking for to satisfy each of my requirements I have when looking into a ski. I plan on being a future owner of some Daylight AT's and I'd like to give a special thanks to the crew at Powder Factory for making me feel at home and taking time to rip it up on closing day! All in all, I'd say go and try them out…you wont need to look any further."
---
"I took these skis out to demo them on Shit for Brains Couloir. The skis were very easy to tour on. The shape of the tip kept them floating in the powder and were just super fun. The softer tip allowed me to really get up on the tips when making tight turns and the stiff tail made gives the ski a felling of control when jump turning that you do not get with a lot of skis. The stiff tail also kept them from washing out when I opened them up on the apron. Overall an incredibly versatile ski that handles all types of snow exceptionally well."
---
– John from Silverthorne, Colorado
"I hut and resort skied on my Dreams all last week. They were very good in 21″ powder at Opus Hut! See below. Thanks again for the new arrow in my quiver."

Save