A Glimpse into Our Story
John Thomas Fielder III was a humorous, intelligent, caring, creative, and handsome young man. On March 21, 2006, J.T. made the decision to end his own life. He strapped on his skis, climbed to the top of a windy 13,000 ft. peak in his favorite backcountry skiing locale, sent his love to his sisters and his father via cell phone, and proceeded to lethally injure himself. Hours later, in the dark, he was found by Rocky Mountain Search and Rescue with the help from J.T.'s friends and family.
Everyone close to J.T. was taken by surprise and flooded with an unreal mix of emotions. There is no way to know why J.T. felt the way he did. In hindsight, his friends and family realized J.T. had many dimensions of stress in his life and red flag indicators for suicide, including but not limited to:
- Recent loss of his mother to early on-set Alzheimer's Disease
- Recent loss and change of jobs and romantic relationships
- Recent change in health that interfered with his normal activities by limiting his exercise.
Everyone had failed to see J.T.'s signs of depression, to question him about his feelings, to listen to his feelings, and to help him seek professional help. Perhaps we were afraid he would be angry with us or maybe we thought it was easier to deny his problems. We now know it would be better to have an angry friend than a dead one.
Leading up to taking his own life, J.T. had increasingly isolated himself from his friends, became uncommunicative and withdrawn when discussing personal matters, had a noticeable change in behavior, had become increasingly reckless and sometimes even violent, especially when he drank alcohol.
It seemed everyone thought J.T. was getting support from someone, somewhere else. We thought, perhaps, he wanted to be left alone and given time to heal on his own. His smile and laughter seemed to erase the hard times.

Sharing our personal experience with J.T. may seem too personal. The point is to be personal, to let you know the signs and indicators that someone who is depressed or suicidal will express in their actions. Please have the courage to act: don't worry about being disloyal, don't worry about breaking a trust, don't worry about not having sufficient information to call for help.
The Stats
- Suicide is the 2nd leading cause of death for 15-34 year olds in Colorado, after unintentional injuries
- Males are 70% more likely to take their lives than females
- In 2005, traffic accidents in Colorado killed 662 people, whereas 795 people committed suicide
- Nationally suicide is the 11th leading cause of death with a rate higher than homicide
- Colorado leads the nation in suicide AND the state ranks 33rd in the nation for state funding of mental health and last in funding for substance abuse
- 90% of people who die by committing suicide suffer from depression or other mental disorders
- The treatment success rate for depression is more than 80%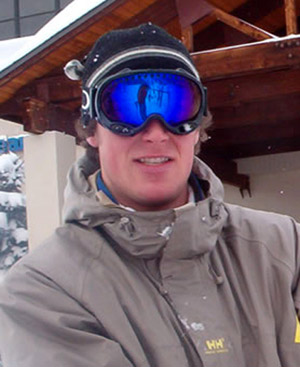 Our Mission
Our mission is to share our story with as many people as possible in order to eradicate the stigma attached to depression and to bring a greater awareness to the warning signs, risk factors and available resources for help. With our proceeds from this calendar, we hope to fund pre-existing depression and suicide prevention programs focused on young adults in Colorado.
Always Dedicated to Our Friend
J.T.'s death is an experience from which we will have difficulty recovering. Powder skiing and the preservation of wilderness were essential parts of J.T.'s life. On a snowy day in the backcountry J.T. reflected:
"If everybody could just get up here. If everyone in the cities could chill out comfortably without whining about the cold and the wind….just sit here and hear the wind through the trees; look off at the view and just feel it, feel the vibe. The world would be a better place."